May News Sheet - 2010
News from Fred and Lorna Morris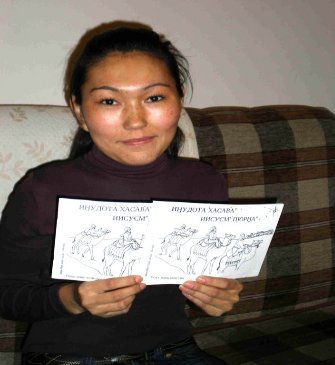 A good friend put us in touch with her grand daughter who is an artist. She was willing and ready to draw line drawings for MOSES, which lacked only three or four drawings.
CONGO - A large gift enabled us to send funds for Pastor Umba in the south of the Dem. Republic of Congo. He will print several titles of the Manna for Children Bible stories coloring books in several local languages. He has translated JONAH, JESUS LOVES CHILDREN and THE STORY OF THE FLOOD and wants to print these first.
Pastor Umba started printing Manna Bible commentaries. In no time he found our Manna for Children Bible story coloring books on our web site. The Pastor is lame in one leg and walks with a limp, but he loves the children and walks many miles through the bush to towns where there are orphanages, hospitals and lots of street children who have no homes. We don't know where he gets crayons, but he never asks.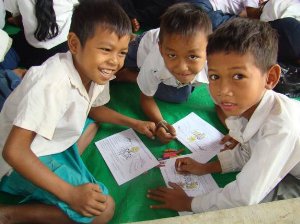 The Pastor told us of a little boy at one of the schools. While the boy was coloring the book of TIMOTHY he began to cry. Pastor asked the boy why he was crying? He put his finger on page 9, the picture where the angry mob chased Paul and Barnabas out of Lystra. The drawing tells the story. One angry man has a raised club in his hand. "They are going to beat them," the lad sobbed. Pastor was able to tell him that Paul and Barnabas escaped and went to another town to preach the gospel. The boy wiped his eyes and went on coloring.
For many of the children, this is the first book they have ever owned and it becomes something of a treasure.
In PNG (Papau New Guinea) enthusiastic missionary teachers use the books as school curriculum. The children not only learn the stories and can recite them, they also learn from memory the Bible verses that relate to the drawing. Later, at home, they can tell their mothers the stories. In many homes the children have had more formal education than their parents.
Hospitals are an ideal place to reach out to the small patients. Some are able to sit up in bed and have a coloring book on their knees. What better way to pass the long hours and days when learning Bible stories.
Angie, a missionary from Bolivia serving with the Africa Inland Mission in Nairobi, Kenya, visits the Coptic Hospital regularly. The hospital is not far from where Angie lives and she is able to teach the Somali women and girls literacy. They have never been to school and they are glad to have this opportunity to learn what they have been denied all their lives. They like to hear the story told over and over again by their visitor. Then they are given a book and crayons.
The drawings in THE POWERFUL LANTERN had to be redrawn to suit the culture. Angie found someone who could do this and what a transformation. A camel replaced the donkey and a typical Somali tent replaced the grass-thatched hut that is so typical of African villages.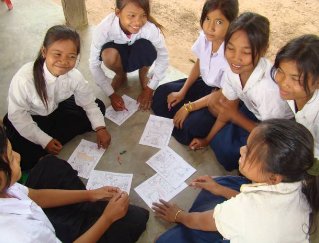 (More and more children around the world are enjoying the Manna for Children books. Here we see some girls at the Banteay Chmar Village in Cambodia delighting in the stories and the coloring activity).
A BIT OF HISTORY: We had been in London attending the Media Associates conference where journalists, authors, editors and publishers from 40 countries met.
The Byrnes, where we had been enjoying British hospitality, sent us on our way to Zambia, via Harare, Zimbabwe. There we met Rev Henry Murray, the great grandson of Scottish preacher Andrew Murray. Henry took a few of our book manuscripts and published them at low cost.
He invited us back to the Book Fair to be held in Harare in 1996. At the Book Fair we saw children gazing at the expensive coloring books, which they could not buy at $20. Instead they bought our adult Bible study books for .50. That was when Fred determined to do a book for children to color.
One year later, in Kenya, he picked up a tract by a Kenyan. He saw that the story could easily be told in pictures, so he gave his idea to a young artist, Reushann Cox to do the drawings. The book, THE POWERFUL LANTERN, was a great success, and translated into 20 or more languages. That was the beginning; now we have eleven Bible story coloring books and more to come.
If you wish to invest in these children's lives, please make checks payable to:
Manna Publications (USA) Inc.
Mark "Manna for Children" and mail to
1130 Highlands Place, Apt 205,
Harrisonburg, VA 22801.
Thank you for your prayers and support.