[click the menu words to reach the main website sections]

Manna for Children,
Free and Ready to Download
Manna Publications offers a small library of children's books which are free to download and very easy to print on small printers or photocopiers download the PDF of printing instructions and produce as many as you need. You may print them out for your own children at home, or for use in Sunday Schools or Bible clubs. Especially children who seldom have access to books they can enjoy and take home. Many are used in third world countries where the opportunity to also supply the crayons gives even greater enjoyment.
The advantage of these books, are that a teacher can tell the story, then let the children each color a booklet that they get to take home. It will help them to retell the story to others, and thus reinforce it into their own minds and hearts.
We now have two lists. The Manna for Children are Bible stories with pictures to color and just enough text to help understand the story. The Read-and-Color books are not Bible stories but have a strong moral lesson and are suitable for any Christian teaching setting. See list below for languages we have, but books from both lists are being translated into more and more languages all the time. Please contact us to ask if there is one in your language of choice, or to offer to translate. (about 500 words in each booklet).
They come as PDF files in two printing sizes (2 pages are on each sheet) -
Letter size paper - for the Americas, OR
A4 size paper - for the Rest of the World.
These are the sizes of most home printers and small photocopiers. The result can be easily folded and stapled to make into booklets about 6" X 8" or 14cm X 21cm. See PDF of Printing instructions.
Most books have 16 pages, two have 12 pages and one, Charlie's Ants, has 24 pages. You can see larger copies of the sample pages HERE.
Quick Download Lists
Manna for Children
For more detailed descriptions and download links see:
Manna for Children and Read-and-Color books
Use our Contact form to request them by title.
Read-and-Color Books
The Powerful Lantern (Letter format)
or - The Powerful Lantern (A4 format)

Charlie's Ants (Letter format)
or - Charlie's Ants (A4 format)



Arabic: Read-and-Color Books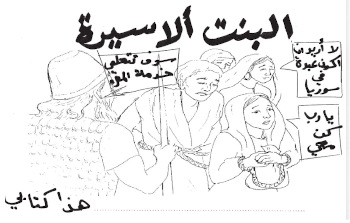 Captive-Maid(Arabic).pdf (Letter format)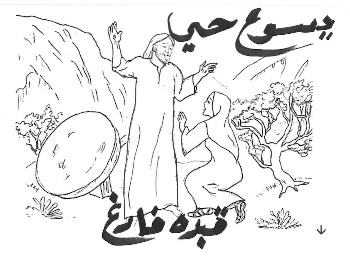 Jesus-is-ALIVE!(Arabic).pdf (Letter format)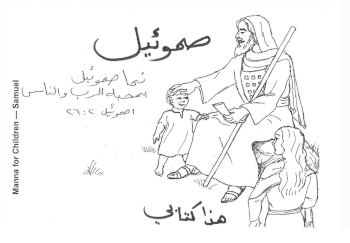 Samuel (Arabic).pdf (Folded_Letter format)
The printing instructions for the Arabic coloring books, are similiar to those below for the English Coloring books, but note that if you can set your printer to do duplex printing, it should be possible to give that duplex command, and you will get 4 sheets of paper with the right pages on either side making for 8 sheet sides on 4 sheets of paper. When these are stacked correctly, you can fold them all at once, and find you have your booklet ready for stapling together. (The A4 formats are coming later!)
NOTE: the Samuel colouring book uses the Letter sized paper (not A4) however the pages are folded in the middle to create a booklet in the way some Calendars are made. If your printer can print duplex (both sides in two quick passes) you may give the command from the computer to print all the pages in sequence. However, some printers will not work with the duplex command, so then the recommended method is to print out pages 1,3,5,7. Then turn the pages over upside down and give the command to print the even numbered pages, 2,4,6,8. If that does not come out correctly, check to see if your printer's manual wants the pages turned a certain way to print on the other sides.
* * *
The 13 PDF files of each size, are all above and have either A4 or Letter in the name, so download your own requirements.
Note that these are large PDF files. Mostly about 2 meg, two are 4.5 meg so if you have a dial-up connection it may take a long time to download.
Languages in which we have at least one book available, or it might be most of them, are: Afaan Oromo, Bemba, English, Buang, Chichewa, Creole, French, German, Igala, Kikuyu, Kiluba, Kisongye, Lingala, Luo, Nennets, Polish, Portuguese, Spanish, Tagalog, Tambuka, Yoruba. Please ask if you are looking for a different one.
If you use these books Manna Publications would love to know how you used them, how easy you found it, or if you had any problems or comments to improve our service. contact form to tell us about your plans and how the books were received or even if you are able to translate. All the books are less than 500 words. Thank you.
NOTE: Elizabeth Long, Florida, is now in charge of the Manna for Children, Spanish Editions. If you are planning a trip to Mexico, Central or South America - either alone or as a short-term missions team - you should contact us for a connection to Elizabeth as she can supply you with Spanish editions of our Manna for Children and the Read-and- Color books. These are great for distributing to the poor children who don't often get a colouring book. In this case, they have a Bible story as well!
As a 503 c non-profit, gifts and donations are encouraged and may be sent to:
Manna Publications,
436 Sandlewood Dr NW,
Carolina Shores, NC 28467-1850.