Manna Matters - January - February 2011
MANNA IN ETHIOPIA - During a recent trip to Ethiopia, Doug Sensabaugh, a member of the Manna (USA) Board, distributed samples of the Bible commentaries and Manna for Children Bible story coloring books to leaders of the Illubarbor Bethel Synod (IBS) in Mettu, Ethiopia. The Rev Tariku Tolessa, President of IBS, was delighted to receive such valuable resources for Pastors and Bible teachers. "These Manna books will help our leaders in their understanding of the Bible. Please extend our thanks to Manna for these wonderful resources," said Rev. Tariku.
Availability of resources for teachers is very limited. IBS can use these books in their teaching, so that many congregations will benefit. Several of the commentaries and some of the Manna for Children Bible story coloring books have been translated into Amharic, the national language and also into Oromo, the second language of Ethiopia.
MALAWI - Enock Dimba is the Manna Distributor in Malawi, East Africa. His heart is with the children. He directs the Maoni Orphanage. Recently he sent us a list of 269 orphans under his care. Many are waiting for sponsors. Enock has translated and printed several titles of Manna for Children Bible story coloring books - into Chichewa (the main language of Malawi), You, Tumbuka (also spoken in Zambia) and into Portugese for neighboring Mozambique.
HAITI - Dr Chris Carlisle made 700 Haitian Creole books for his team to take to Haiti in October. He took crayons, too.
NIGERIA - About two years ago, Ms Caroline Gross asked for Manna for Children's books for her orphanage. At that time they had to be printed by Timothy Osinlu, our Manna Distributor who lived four hours by bus from the orphanage. Timothy printed the Igala translation of THE POWERFUL LANTERN and delivered them. The translation was done by one of the Gross daughters in the US. Mrs Gross went to Nigeria as a new bride in 1945. Her husband went to Nigeria with his missionary parents when he was four years old.
Mrs Gross says there is a new interest in teaching children to read the Igala language in the schools, instead of English only. But there are very few books written in Igala The Manna books which were translated into Ingala in 2008 could well fill this gap.
INDIA - Many moons ago, we worked with a Pastor Raju and his wife Grace Victoria in East India. At that time, they had a very small daughter Sarah. We have prayed for Sarah down through the years. She is now 18 and has just missed winning entry into one of the Medical Colleges of Andhra Pradesh State. She is not giving up, but will study for another year with the hope of getting a better placing next year. Sarah is a big help in the Sunday Schools in the East Godavari District. She will translate several of the Manna for Children books into the Telegu language and print them.
KENYA - MICHAEL ODENBA writes: "I am Kenyan from a Western Province. I am the first born from a family of six. I can read and write in Swahili, Luhya and English languages. I am a born again Christian and fellowship at Nairobi Baptist Church. Christ is my Lord and Savior and I really enjoy my daily walk with Him. I've been involved in book publication and distribution for Somali literacy materials before, so I welcome an opportunity to help Manna Publications with translation and publishing as part of my service in Christian ministry to my community. I've got sample books, so I'll get you a quotation or two from my printer.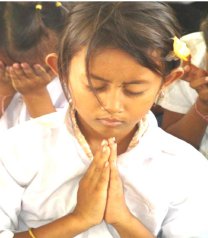 CAMBODIA - Charia You, a programmer at TWR in Phnom Penh writes, "The Bible stories are very important in the lesson. As the child learns the stories, they learn how to pray."
From Dec 1, 2009 to Nov 30, 2010 we know of 13,720 books printed. That number can safely be doubled as many download the books from our web site MannaPublications.org and print them.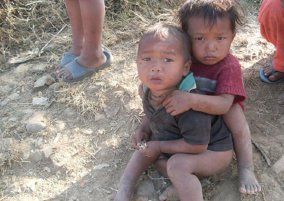 Will this child receive a book for Easter? Five books cost about .15$ each. Ten books for $1.50 and 20 books,$3.00 Crayons are shared.
If you wish to invest in the children's lives, please make checks payable to Manna Publications (USA) Inc. Mark "Manna for Children" and mail to 1130 Highlands Place, Apt 205, Harrisonburg, VA 22801. A big thank you for your prayers and support. (John 4:35-36)
Manna Publications (USA)
1130 Highlands Place, Apt 205.,
Harrisonburg, VA 22801
January-February 2011