Spiritual Manna for Everyone
Manna Publications exists to promote Bible Study in third world countries by providing free Bible commentary manuscripts for distributors to print and publish locally at much more feasible prices, so they can be available to many more people.
You may download and print these books for your personal use, or take them to a local printer and have a number of copies made to distribute to the people you are reaching in your ministry. Most of our publications are available right on this site for you to download. If you want to see the most up-to-date list, use our Contact form to request Jim Norman's current list.
This site is established to raise awareness in the USA of the need for Christian literature in overseas countries. Many language groups have some part of the Bible in their language but no study guides to facilitate learning. Manna seeks to provide in the form of a self-help program where the Manna Distributor selects what is needed and we help them produce it in their own country. They agree to sell the books and reserve some(50-60%) of funds for future printing.

Manna for Children Brochure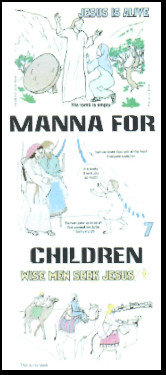 In 2007 and 2008 we added Manna for Children to our list of publications. Several titles have been produced and translated into as many as eight languages. Very postive results are coming back from field tests as these two photos show.
Reports came in on very successful distributions, especially of the Christmas Read-and-Color books for children in the month of December. More have followed from various countries.
You may see a full-page photo report on three of these instances HERE.
More news and downloads of these childrens books is on this site now! Go to
Manna for Children
to see them.
We have a brochure you may download and print out to pass on to others and let them know about Manna for Children. You may print it out and hand out the brochure to your friends or others who ought to know about Manna for Children.
Pastor Timothy Osinlu of Nigeria, says this of FROM DARKNESS TO LIGHT:
"Thank you for the excellent and powerful book you sent to me (From darkness to light). It is a great treasure. It is more precious than gold and silver. It is not too hash at all. It is a plain truth. It is what is really going on in Nigeria. The book will surely meet the spiritual needs of millions of Nigerians and I pray that it will spread to other West African Countries. Thank you for making such a book available to us. Thanks be to God for the life of late Pastor Timothy Chilufya. Although he had died, he is still teaching and preaching God's precious word."
Timothy Osinlu
7.16.2010
Another report from Ethiopia:
One "by-product" is that your efforts serve as an example to the teachers - and the older students themselves - of the possibility of becoming authors in the same way. We have computers and scanners and photocopiers, so it's just a matter of making the decisions to become authors and producers of our own materials. Thank you for that example. And thank you so much for making this valuable resource - Manna for Children - available to the teachers and therefore to the students of Bethel Mekane Yesus School.
Love and peace,
Bruce Whearty, Addis Ababa
10.10.2008
More photos!