About Manna Publications
Manna exists to promote Bible Study in third world countries by providing free Bible commentary manuscripts for distributors to print and publish locally at much more feasible prices, so they can be available to many more people.
Manna Publication's goal is to advance the study of God's word by publishing Bible study commentaries in everyday English in countries where little is available.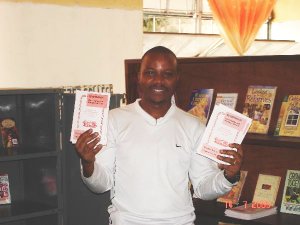 Manna Publications was established to raise awareness in the USA of the need for Christian literature in overseas countries. Many language groups have some part of the Bible in their language but no study guides to facilitate learning. Manna seeks to provide in the form of a self-help program where the Manna Distributor selects what is needed and we help them produce it in their own country. They agree to sell the books and reserve some(50-60%) of funds for future printing.
Fred Morris, Founder, of Manna Publications, USA Corporation. (Passed away to his reward on September 23, 2018 at 9:30
Chris Carlisle, is the Current President.
Jeanette Frederick, is the Treasurer
and Scott Robidoux, is the Secretary, and also the Chairman of the Board.
As a 503 c non profit, gifts and donations are encouraged and may be sent to:
Manna Publications,
115 Cedarhill Ave., So.
Nyack, NY 10960.
Download this PDF booklet: What is Manna Publications?
To get Adobe Reader, please click here